The Diversity, Equity, Inclusion, and Justice Leadership Master's prepared Jenny Jun-lei Kravitz, A03, AG21, for DEI leadership roles.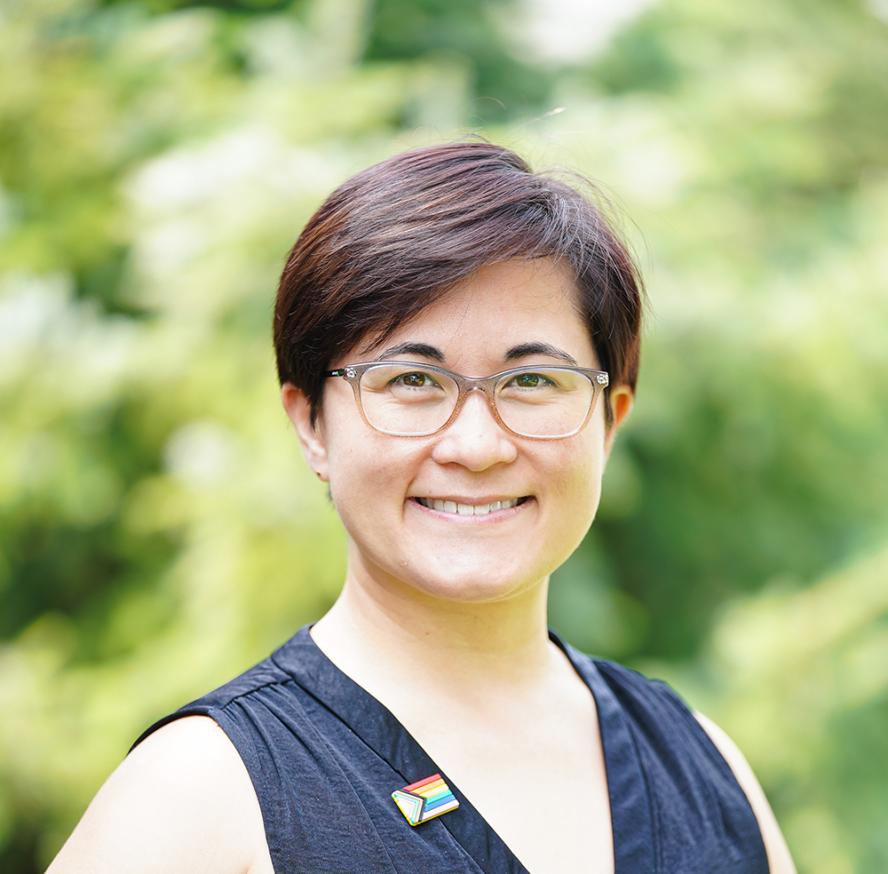 By Dan O'Sullivan
Jenny Jun-lei Kravitz (BA in Biology '03 and MA in Diversity, Equity, Inclusion, and Justice Leadership '21) didn't always aspire to a career in diversity, equity, and inclusion (DEI). But in retrospect, it was probably her destiny.
As an undergraduate at Tufts, Kravitz served as a tutor in a citizenship program at a public school in Boston's Chinatown. After graduating in 2003, she spent 13 years as a public school teacher and then five years as a district-level science curriculum coordinator. Throughout this period, issues of DEI were never far from her mind.
"As a teacher, I started advocating for equity and access on a larger and larger scale, and then I got into educational leadership—first as a department head, then as a curriculum coordinator—so I could effect broader change," she says. "I ended up working in many different environments and communities advocating for different kids."
In July 2023, Kravitz assumed her latest role: Director of Diversity, Equity, and Inclusion at The Rivers School, an independent school in Weston, Massachusetts. She works with a variety of departments and constituents to advance DEI initiatives across the institution and deepen its culture of inclusion and belonging.
'Exactly What I Needed'
As the grades 6-12 science curriculum coordinator for Westford (Massachusetts) Public Schools, Kravitz already had her hands full. But in her free time, she also acted as the district's unofficial DEI director, running DEI programming for 10 schools serving nearly 5,000 students.
One day, Kravitz came across a Tufts Magazine article on the Diversity, Equity, Inclusion, and Justice Leadership (DEIJ-L) master's program. "I realized this was exactly what I needed—a degree that would justify exactly what I wanted to do," she says.
Kravitz was accepted to the program as part of its first cohort of part-time students in 2019. One year later, she launched Equity Inclusion Specialists, a DEI consulting firm that she has since operated on a part-time basis. In 2021, two months before completing the DEIJ-L program, she became Director of Equity and Justice at The Pike School, an independent school in Andover, Massachusetts.
According to Kravitz, the DEIJ-L program complemented her extensive work in equity and access by instilling a theoretical framework and fostering skills in policy analysis and writing. One of the professors who made a significant impression was Shameka Powell, with whom Kravitz took courses on critical race theory and educational policy. She calls Powell a "huge mentor" who helped her make the transition from the world of quantitative data—an area of focus in her biology studies—to that of qualitative data.
"But more importantly, it was inspiring to be around someone who is persistently inquisitive and insistent upon holding any idea up to deep scrutiny for the benefit of everyone else," Kravitz says. "It was so impactful to me. They're just a brilliant human being. So many things that I can directly trace back to Dr. Powell have stuck with me in my practice to this day."
A Serious Commitment to DEI
Kravitz is excited about what lies ahead at Rivers. She says that in contrast with DEI offices at many independent schools ("which are an office of one"), Rivers is making the necessary investment to ensure she has the resources to achieve her objectives.
"I oversee a team of program directors who handle the many different aspects of our student-facing programs in DEI, community engagement, and global education," she says. "That allows me to look at institutional equity, which includes working with the board on strategy so that we can innovate and address some of the structural barriers for equity and access for students and our professional community. Doing this work is possible only because of what I learned and how I developed in the DEIJ-L program."