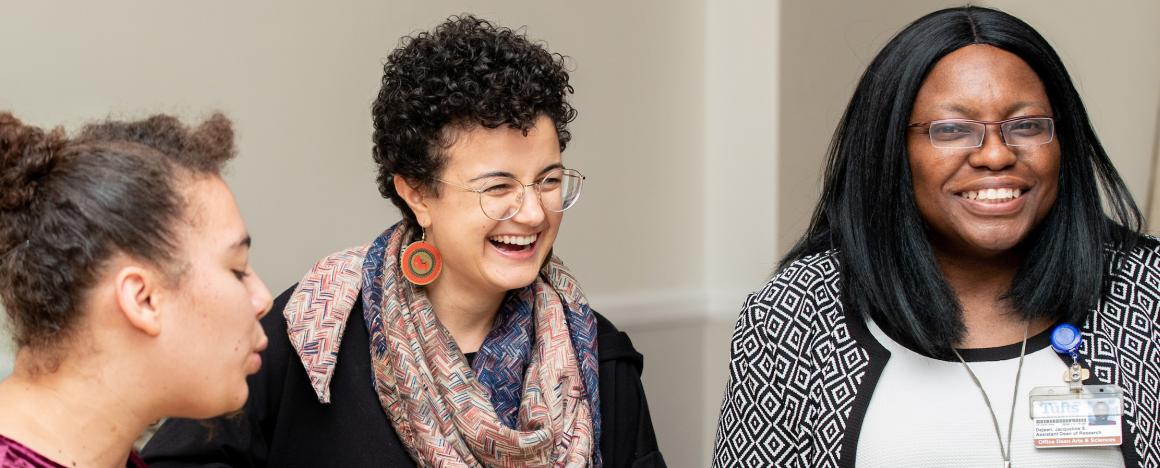 Diversity, Equity and Inclusion
Our Statement on Racial Injustice
Academic Centers
Student Accessibility Services
Tufts University provides reasonable accommodations to students with disabilities such as impaired hearing, speech, mobility, or vision, and students with learning disabilities and attention deficit disorder. Assistance is also provided to students coping with serious illness. Student Accessibility Services handles the process of arriving at and implementing accommodations for students.
Identity-based Centers
The identity-based centers work collectively and independently to develop knowledge of and appreciation for diversity at Tufts. All students are welcome at each center. The centers sponsor many activities, including field trips, lectures, barbeques, and other events throughout the year. For more information, please visit their websites:
The International Center
The International Center works to raise intercultural awareness, to increase the knowledge of immigration laws affecting the Tufts international community, and to advocate a campus climate that respects cultural differences. The staff provides individual counseling, immigration advising and visa documents for students, faculty, and scholars from over 100 countries.
The Center for Science, Technology, Engineering and Math (STEM) Diversity
The Center for STEM Diversity is an umbrella organization for programs and organizations within Tufts that are working to diversify the STEM fields. 
Center for the Study of Race and Democracy (CSRD)
The mission of the Center for the Study of Race and Democracy is to promote engaged research, scholarship and discussion, with a focus on the ways in which issues of race and democracy impact the lives of global citizens.
Office of Equal Opportunity
Tufts Office of Equal Opportunity (OEO) ensures that Tufts University maintains compliance with all federal, state, and local laws pertaining to anti-discrimination, the Americans with Disabilities Act, and Title IX, through complaint resolution, programming and outreach. The OEO cooperates with members of the Tufts community to resolve complaints of discrimination, sexual harassment, and sexual misconduct, and set forth University policies and procedures that pertain to these areas of conflict.
Students, faculty, and staff members can report incidences of any misconduct to OEO. Students can also submit requests for reasonable accommodation to OEO for all academic and medical, mobility and physical access accommodations.