The Power of Faculty-Student Mentorship
Carolina Gonçalves, PhD Candidate in Child Study and Human Development, discusses faculty mentorship at Tufts and how her experiences with mentorship are now coming full circle.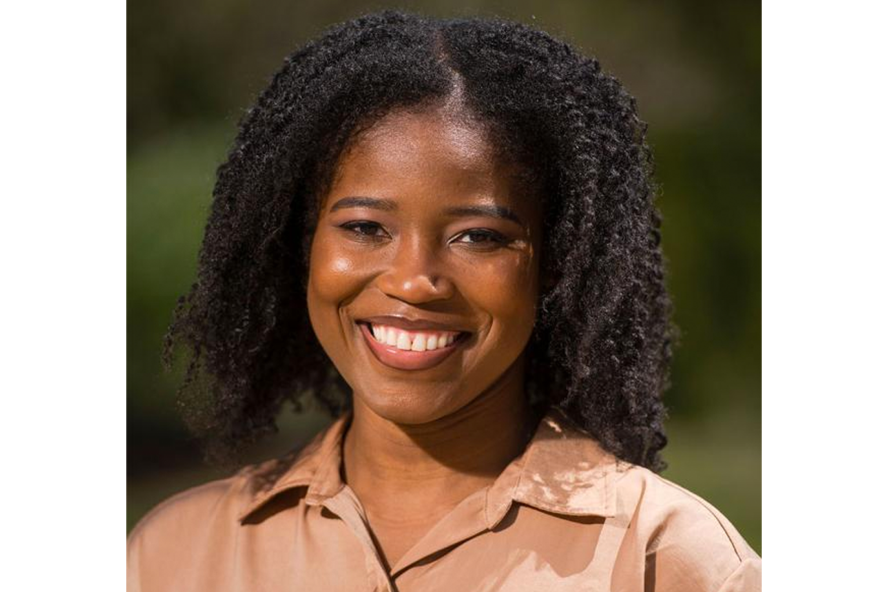 By Dan O'Sullivan
Carolina Gonçalves, PhD Candidate in Child Study and Human Development, knows what it's like to be out of one's element. A native of Angola, she came to the United States at age 9, settling with her family in Chicago's North Side. Looking back on her childhood, she recalls feeling disoriented at times as both a Black person and an immigrant.
"There were many spaces where I felt I didn't fit in," Gonçalves said. "I was around a lot of Black people, most of whom were not immigrants. And I was around a lot of immigrants, mostly Latinos. But even though I spoke Portuguese and Spanish, I didn't fit in in those spaces either. There are layers of racial identity that are difficult to navigate, and that can have an impact on your psychological well-being and even your health behaviors."
Fast-forward to 2019, Gonçalves' first year in the doctoral program at Tufts. Starting a new program and facing a multitude of questions about her future had left her feeling disoriented once again.
Fortunately, the Child Study and Human Development program places an emphasis on faculty-student mentorship. Several faculty members whom she knew through classes or research soon emerged as mentors. She continues to look to them for guidance today.
Always Somewhere to Turn
Gonçalves received her bachelor of arts degree in psychology from Knox College in Illinois in 2016. After graduating, she moved to Boston to work as a Research Assistant at Boston University's Center for Behavioral Science Research. Her work there focused on the health and well-being of children from underprivileged backgrounds. It was a positive experience that inspired her to pursue graduate studies, ideally in a PhD program.
At Tufts, Gonçalves is researching the role of ethnic racial identity in influencing adolescent development, including mental and physical health outcomes, primarily of immigrant youth in the United States. Upon her arrival, she worked in the lab of Sasha Fleary, who also served as her primary mentor. Richard Lerner,  Bergstrom Chair in Applied Developmental Science, stepped into that role after Fleary left Tufts in 2020.
"I'll schedule a meeting with Rich when I want to discuss things like my master's thesis or a preliminary review, and he also provides great ongoing feedback about my research and professional career," Gonçalves said. "I still work with Sasha as well and receive a lot of great mentoring from her. They both have really helped me improve my work."
Another mentor in Gonçalves' circle is Professor Ellen Pinderhughes, whose interests center on families and children in challenging circumstances. The two crossed paths soon after Gonçalves' arrival at Tufts and have remained close since, with Pinderhughes now her secondary mentor.
Their relationship transcends academics, Gonçalves noted. "Ellen is a Black woman, like me," she said. "I can go to her about many things not related to the program. She can relate to much of what I'm experiencing. If I question myself and whether my feelings are valid or accurate, she helps me talk things through and find solutions. She is very wise and insightful, and it's always a pleasure to speak with her."
Coming Full Circle
In 2021, Gonçalves was named one of the inaugural fellows in the Graduate Leadership in Inclusion, Diversity, and Equity (GLIDE) program. GLIDE is designed to give Tufts graduate students the knowledge and practical tools to become effective change agents for diversity, equity, and inclusion (DEI) in the workplace. Fellows complete a week of DEI training and then create a practicum.
For her practicum, Gonçalves is developing a program that aims to address some of the challenges she faced growing up. Tufts for Teens will pair Tufts PhD students of color and high school students of color who have similar interests. The program recently received funding from the School of Arts and Sciences' Diversity Fund, and Gonçalves plans to implement it in summer 2022.
"Our hope is that the high school students will gain some research experience while also learning about college and graduate school," she said.
Given how much she has benefitted from her mentor relationships at Tufts, it is only fitting that Gonçalves is now trying to ensure others can enjoy similarly enriching experiences.