Vi Nguyen, AG'23, MA in Child Study and Human Development, hopes to use research as a tool to create systemic change that positively impacts the lives of children and families.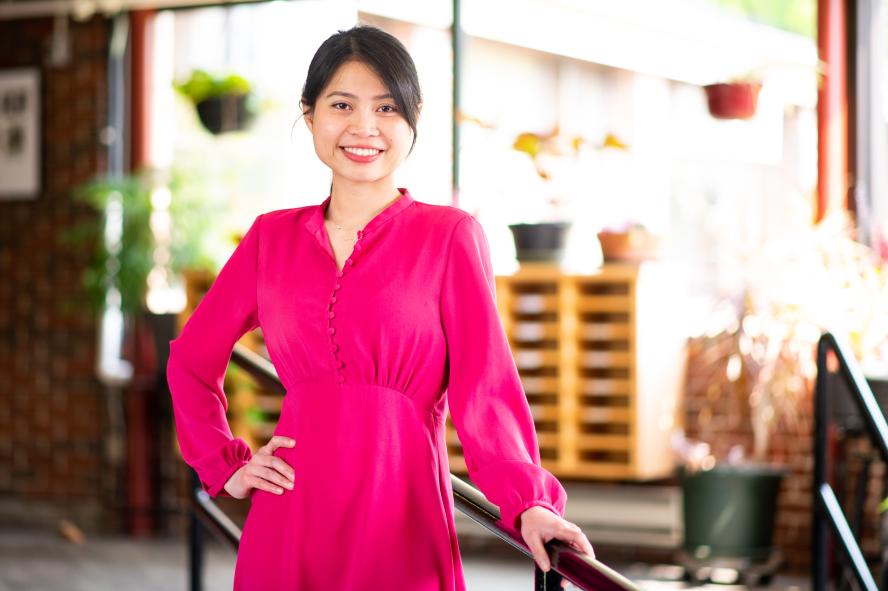 Vi Nguyen, MA in Child Study and Human Development '23, first discovered her passion for research as an undergraduate student in Psychology. "Seeing how research could be used to inform policy making decisions and to advocate for marginalized communities, I felt like this was such a powerful tool and powerful skill that I needed to have." When it came time to apply to graduate programs, Vi saw her desire to use research to drive change on a systemic level reflected in the work of the Eliot-Pearson Department of Child Study and Human Development faculty. For this reason, Tufts seemed like a great match.  
Now as a student in the program's thesis track with a concentration in Clinical-Developmental Health and Psychology, Vi's area of interest is in examining children's identity development and self-concept. 
Currently in her final year of the program, Vi's particular focus lately has been on her master's thesis for which she conducted her own study and data collection in her home country of Vietnam. The project started with a trip to Vietnam to visit family last year. Vi discussed with family members who are elementary school teachers the possibility of conducting a study on self-concept among Vietnamese children. The majority of studies on self-concept that she had encountered were conducted in Western-European countries and in the U.S. so it was important to Vi to explore this in the current context of Vietnam. While Vi saw several potential challenges, including that she herself wouldn't be able to be in Vietnam to collect the data, upon returning to the U.S. she devised an innovative study design. 
Vi worked with teachers remotely at a school in Ho Chi Minh City, Vietnam, to give students a classroom drawing activity in which they were asked to depict themselves at home, at school, or playing with friends. With the help of two research assistants, Vi then analyzed the drawings for common themes and throughlines.       
In the analysis, she saw several main themes emerging across the children's drawings: close-knit relationships with socializing agents such as friends and family; active participation in cultural and learning activities; conformation to cultural values and standards; and harmonious relationships with nature.  
Over spring break Vi got the opportunity to present the results of her thesis research at the Biennial Meeting of the Society for Research in Child Development in Salt Lake City, Utah. 
"My experience there was great!" she says. "I got to present my study that was done in Vietnam, on a Vietnamese population, talking about Vietnamese culture. I felt like I was not just there to present my study. I was there to represent Vietnamese scholars and Vietnamese people and to talk about our country, our culture, and our children. I felt very honored to do that."
In addition to her thesis work, Vi is busy with multiple other research opportunities. She's currently a Research Assistant in the lab of Dr. Judith Scott, Assistant Professor at Boston University School of Social Work, who is also an alum of the Eliot-Pearson doctoral program. Vi is assisting in an intervention project that supports Chinese and Vietnamese-speaking parents talking about race and racism with their children. 
Vi learned of the opportunity in Dr. Scott's lab and was encouraged to apply by Eliot-Pearson faculty Professor Ellen Pinderhughes and Senior Lecturer Theo Klimstra, who also serves as her thesis advisor. Working in Dr. Scott's lab has also connected Vi with a 6-month clinical training program at William James College she's currently engaged in that aims to increase access to linguistically and culturally appropriate mental healthcare within Asian communities. There, Vi sits in on therapy sessions with Vietnamese clients, working as a translator, but also getting the opportunity to learn and ask questions. 
For the past two years she has also served as a part-time Research Assistant at Brigham and Women's Hospital working on a study about how the utilization of gender demographic information such as legal sex, sex assigned at birth, and gender identity is used by providers and how it may affect the quality of care of transgender patients. 
Vi credits Eliot-Pearson with connecting her to many of these opportunities and she describes the welcoming and supportive atmosphere she's experienced amongst faculty, alums, and fellow students. "I feel such a strong sense of community here and that people are always willing to help other Eliot-Pearson students. That has been really beneficial and meaningful to me." 
This summer, Vi will complete the clinical training at William James College and, after defending her thesis, she will graduate from Tufts in August. She plans to apply to doctoral programs and hopes to remain in the Boston area.